Okay, I'll admit.  It took me approximately three and a half years to actually muster up the courage I needed to consume sardines.  I was first introduced to all the wonders of sardines while doing a little preconception nutrition reading.  "Seriously?  Sardines!?"I promptly put the book down and ate a cookie.  Well, I'm here to tell you that I have crossed to the other side, my friends, and Sardine Land isn't half as scary as I had made it out to be, especially with your lovely tour guide, this Lemon Basil Nori Wrap!
My advice?  If you are new to the land of lil' fishies, start with this nice sautéed version.  Once it's mixed in with the veggies, you'll hardly notice those silvery scales.  And, this is a FODMAP-friendly recipe, guys!  Where my low FODMAPer's at?!  Let's get you all some more recipes on here!  Whatcha think?  Tell me what you'd like to see in the comments below!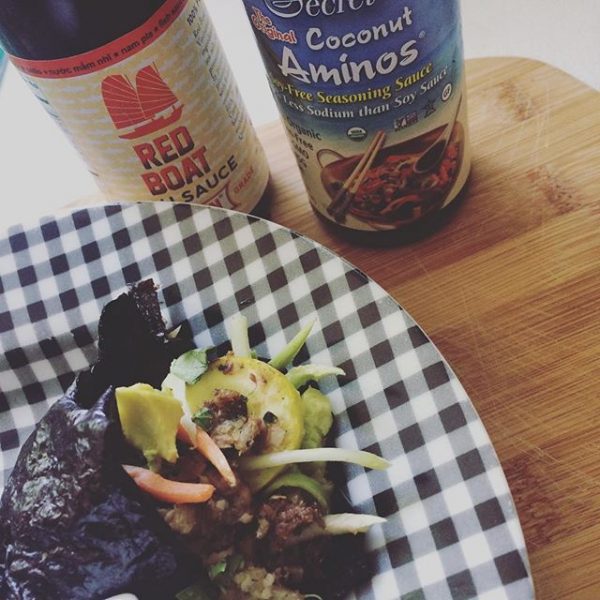 | | |
| --- | --- |
| | |
Melt coconut oil in a skillet on medium high heat.

Add sliced yellow squash and broccoli slaw. Cook on medium high heat. Flip squash over to brown both sides.

Drain can of sardines. Add fish to skillet, using spatchula to break fish into little pieces.

Add lemon juice, green onions and coconut aminos.

Remove one nori wraps from package. If you have a gas oven, you can gentle toast the wraps one at a time by moving the wrap quickly over an open burner flame. You'll notice the wrap shift in color slightly. Don't cook too long or you'll have a crumbly mess!

Fill wraps with skillet contents.

Add slices from 1/4 of avocado. Enjoy!
Use organic ingredients whenever possible.  You may sub red onions for green onions and add garlic if FODMAPs aren't an issue for you.